We completed the bathroom upstairs this winter, but I have yet to post pictures.  This project was one of the toughest (emotionally) for me.  I think part of it is because the room was functional and could have been completed fairly easily if we had chosen to go the easy route.  Instead, we chose to re-do the entire room.  You know, because we can't do anything the easy way, can we?
Here's the bathroom before:
This is before we bought the house.  We didn't live with it like that.  We did clean it up, but there were many issues that didn't clean up.  Behind the weird cabinet you see on the right, there were old, unused pipes.  These went to the attached room which was a kitchen at one point!  Now it's the boy's room.
There were numerous parts of the bathroom that weren't quite right or finished.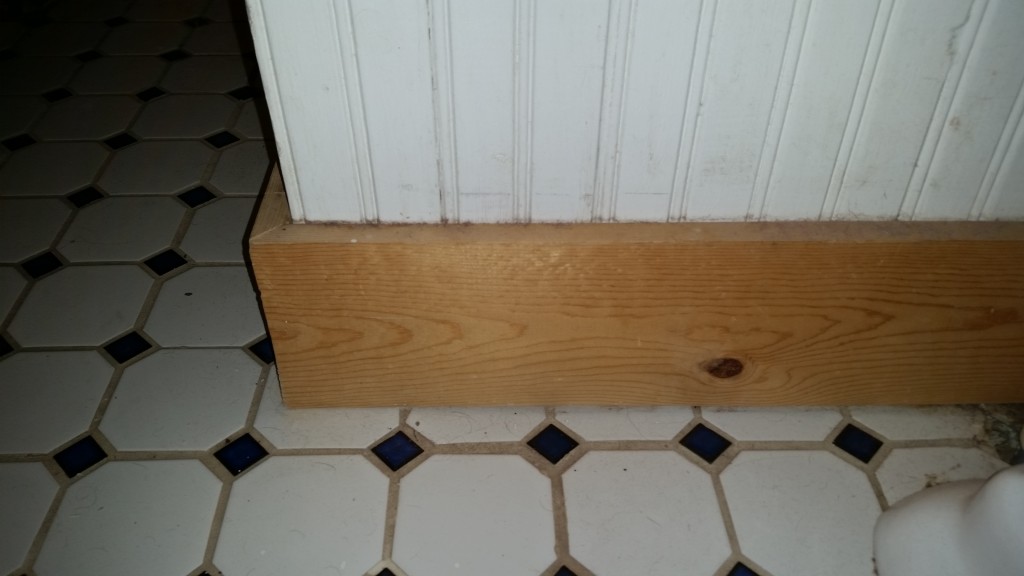 The baseboard wasn't quite right.
Nor was the wainscoat.
The room had tile floors, but we discovered that the floor was originally hardwood.  We installed and finished the hardwoods ourselves.  This involved lots of hammering and tile pieces flying everywhere.
The clawfoot tub was in the room, but needed a little TLC.  We repainted the outside and sprayed the feet to match the fixtures.
We had an antique commode that we used and abused.  We cleaned it up, found a mirror at an antique store, and turned it into our sink cabinet.  Watching hubby drill the holes was extremely stressful!
Drumroll please…..
To add storage, we built shelves into the wall.  There was once a electric breaker box in this wall.  After we re-wired the house, we bypassed this box.  It seemed like a good place to add shelves!
Then, we built boxes to go into the shelves, complete with name tags!
I also came up with this fun little craft project.  I found some cool old-fashioned letters and frames at the craft store.  Now we know whose towel is whose!
And, here's the after of the whole room!
So, there it is in all of its glory!  A room that didn't really need to be completely redone but was.