Everyone needs to have a vision. A goal. Something to strive for. Sometimes it's something small, but achieving it brings you joy.
For example, hubby wanted to own all John Deere Tractors. Cost and quality be damned! (Not that John Deere tractors are of poor quality…simmer down now). He fulfilled that vision, and it brings him joy. Maybe a little less joy when he's using the tractor to plow snow, but joy for the most part.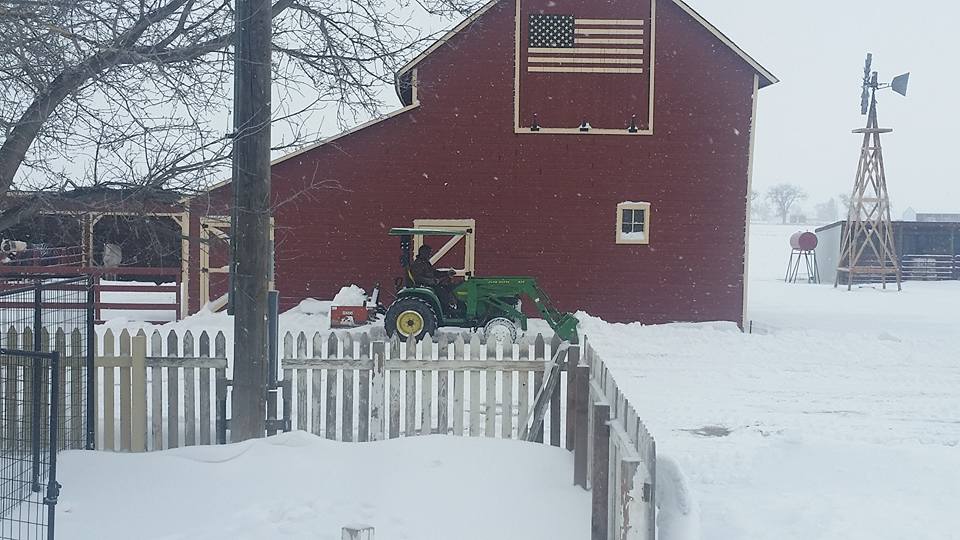 This house has given us many opportunities to fulfill visions and dreams. It has inspired me in more ways than just tractors or interior design.
You see, one of the reasons I haven't been active on this blog lately is that I've been working towards fulfilling a vision. I've been hesitant to share that vision with very many people because it's not a world changing vision. It's not becoming a pilot or a doctor or a veterinarian (my childhood vision). It's not curing cancer (I'd have to fulfill that becoming-a-doctor vision first). I worry that it won't make sense to people.
For 10 years or more, I've talked about becoming a Real Estate Agent. I love the thought of "matchmaking" homes to homeowners…..helping people find a home instead of a house. It's a weird thing to feel like you have been "called" to do, but that's how I feel about it. So, I finally started taking real estate classes last spring. Between running kids everywhere, running the backstage of our construction business, and life….I've been studying. Finally, in November, I was ready to take the test.
The Colorado real estate exam is intimidating. Everyone you talk to tells you how hard it is. The fail rate is extremely high. Allegedly, it takes 5 times (on average) to pass this beast of a test. I was terrified. I didn't tell many people that I had scheduled the test. I didn't want to have to tell everyone I failed!
On test day, I went in to the testing center calm and as confident as I could be. I had studied, I had prepared, I had reviewed, I had done everything I could do to pass. If I failed, I would be better prepared to take it again. There were probably 7 of us in the testing room. I sat and started the test. No turning back now. I finished the first portion of the test and at the end the computer reads:
"You have 58 minutes left to complete this section. Are you sure you want to exit?"
Ummmmmm…….Well, crap. That's a lot of time. Should I go back through all my answers? Check them all again? History tells me no. In the past, when I have changed answers, I should have kept them as they were. So, I click "Yes".
"Are you sure you're ready to exit this portion of the exam?"
Geez….click "Yes". Held breath…..waited for the computer to give me my score on the first portion…..it doesn't…..goes to the next portion of the exam. So, I go through the second portion of the test. Do the best I can, finish the section and the computer reads:
"You have 62 minutes left to complete this section. Are you sure you want to exit?"
Here we go again. Man, that's a lot of time. Did I miss anything? No…. Crap. Click "Yes".
"Are you sure you're ready to exit this portion of the exam?"
AAAAAAAGGGGGHHHHH!!!!! "Yes"
Then there's a damn survey to fill out before I can get my results. Frustrating. Finally, I get to the results page. There's a lot of red print on the screen. Red is bad, right? But, it looks like it says I passed both sections….weird….why is there so much red?
So, I exit out of the program and realize that I'm the first one done. Again, doesn't seem like a good sign. I leave the room and go to the test proctor to get my results.
"Congratulations!" she says…."You passed both sections! This is your first time taking the test? Great job! I hardly ever see someone pass on their first time."
You guys, I literally hugged her.
Since then, I've started working with Berkshire Hathaway Home Services and I have my first closing next month!
So, there you go, that's what I've been up to. I have many crazy Farmstead stories to tell and hope to have more time to tell them in the upcoming months. We've done a ton of work on the barn, nearly finished the siding on the house, culled our first set of hens, had the hogs slaughtered here at the house….all good stories to share!
Thanks loyal readers!